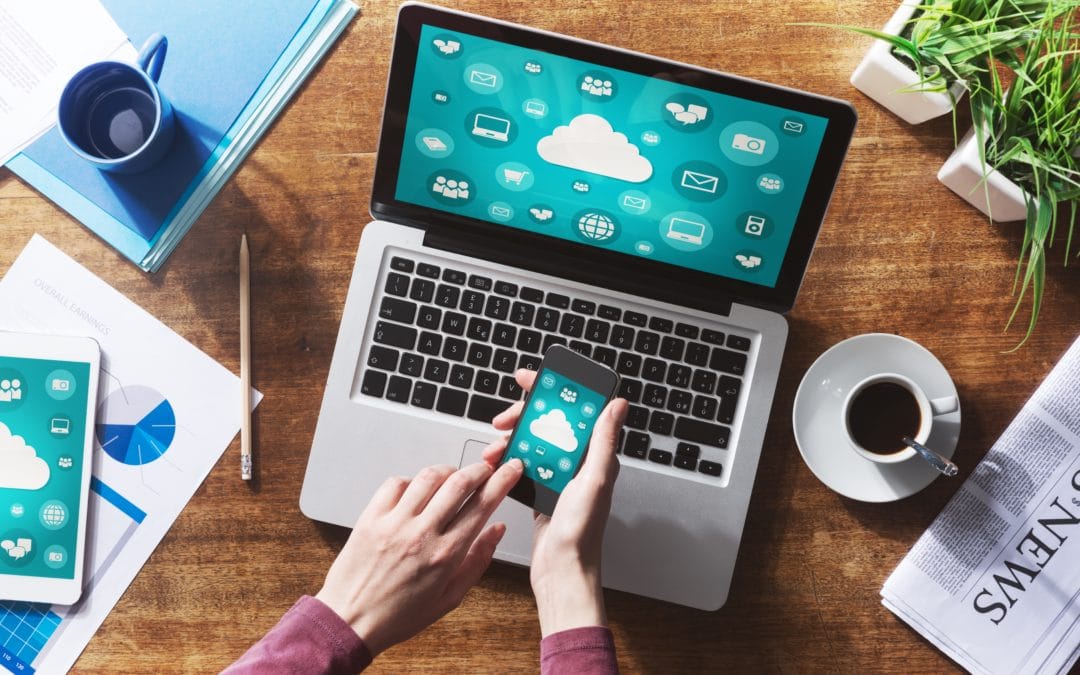 As we enter the 4th week of lockdown and into another 3 week extension of the current UK restrictions, many businesses are getting used to the new way of working.  What may have been temporary measures a few weeks ago, is now fast becoming the new norm!
So, as we prepare for an extended lockdown and more home working, what are the best options for running your business communications?
Computers in the cloud
You may have heard of cloud computing before, and many of us were using some elements of cloud computing such as software services like Office 365 or Xero accounts software.  However, with many people unable to access their computers in the office, how do you operate your business when you are used to saving things on the office server?
There are a couple of ways you can get round this, firstly as many people have done, you can use a VPN connection to connect back to your office to access the files on your network. However the more users you have doing this, the slower your connection will be and soon you could grind to a snails pace when trying to access your files.  A second way of accessing your office computers might be to use a remote access program such as Teamviewer, but this can also be very slow at times, especially if your internet connection isnt that great! A much better way would be to host your computers in the cloud.
Many people don't realise it, but you can not only run all your Windows Servers in the cloud, but you can also run Windows Desktop computers in the cloud too! This can enable you to access your files much quicker by remotely connecting to your desktop PC in a data centre.  Hosted desktops are ideal if you want to access the same computer from any device, or from any location in the world, and you can pickup your work from wherever you left off!
Hosted phone systems
When you are absent from your office, how do you access your phones and answer calls?  Well many businesses have just set diverts on their phone systems to go to their home numbers or mobiles.  The only problem with this is you can't easily transfer calls or communicate with a colleague, and often you can't usually accept more than one call at a time.   A hosted phone system is essentially a telephone system that operates in the cloud, so much like cloud computing you can access your phone system from anywhere with an internet connection.
With a hosted phone system, not only can you operate your phones across multiple locations, but you also can operate on multiple devices too!  So you may have a deskphone, or a cordless, or a softphone app running on your mobile device. All of them operate in the same way and allow you to make and receive calls just as if you were in the office. Whats more, you're not paying any call charges for diverting your calls.  So having an extension in each staff member's home is easy, and they operate as internal extensions – just as they would if there were all in the office!
Trouble with your broadband?
Working from home, streaming videos, making zoom calls, whilst the kids are all watching youtube or tiktok… it all adds up, and some people have found that their broadband just isnt fast enough to handle everything all at once.  Ideally you would have a separate broadband line for business use, so that it doesn't get affected by anything else running in the household. However, due to the lockdown its not possible to get a new broadband line installed for the foreseeable future.  So what can you do?
Well, its not a problem if you use a mobile data connection!  If you use a 4G router with an eSIM installed, you can automatically connect to the strongest mobile network in your area which gives the best speed. Connecting via a cable or using wireless is just the same as connecting to your home broadband, but with the advantage of not needing to plug into a telephone line. Even better is the fact that you can get this connection within 24 hours, and it will give you similar speeds that you currently get from a standard broadband connection.
How can we help?
Nxcoms has always prided itself on enabling its business customers to work from any location and on any device, so we have many years of experience helping businesses communicate over the internet.
Why not give us a call on 0161 711 1100 and tell us what is causing you problems during the lockdown and we are sure we'll have the right solution for you!