Mobile Data
Empower your business by putting Mobile connectivity at its heart
With business Mobile Data you can take advantage of the latest mobile devices, making your organisation more productive and efficient than ever before. Providing high speed internet to access emails, business apps and cloud storage, Mobile Data keeps you and your staff connected at all times, wherever and whenever is required.
Nxcoms not only provides you with a choice of Vodafone, O2 or EE as a carrier, but also enables you to share data allowances across devices if you wish. Our online portal gives you full control of all your connections, allowing you to activate or change connections within a few hours.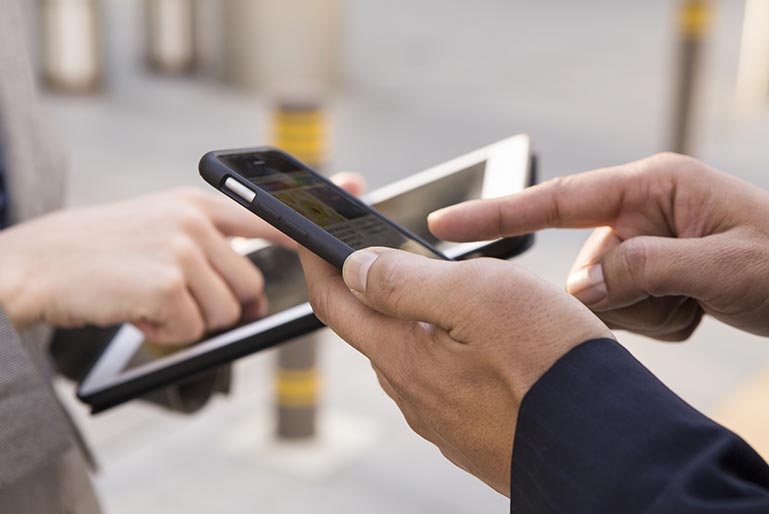 Our range of Mobile data plans provide office on the go connectivity, with fast and reliable business internet at a price that is affordable to you. This allows you to take full advantage of all the benefits of Mobile Data without excessive or unpredictable costs.
Broadband speeds of up to 100Mb/s
Choice of mobile provider
Roam at home in the UK using our Multi-Network SIM packages
Data allowances can be shared in a pool
Full control via our web portal
Fixed IP or standard data sims
UK, European and global coverage
International roaming options
Activation within hours
We can create tailored Mobile data solutions to suit the exact needs of your business and staff. Our choice of Mobile data plans in combination with our connectivity expertise puts you in complete control, empowering your business without financial risk.
You're in control
Our online portal enables you to have full control of your entire mobile estate, choosing which connections are active, and how much data they are allowed each month. Activations are usually completed within hours, and the choice of carrier, amount of data, indivudual or shared etc is entirely up to you. Our portal also allows you to add bolt-ons at any time during the month. By setting up alerts and adding relevant bolt-ons you can help to prevent your connections going over their data allowance and avoid expensive out-of-bundle charges.
Fixed Shared Data Pool
Fixed Pools are available for EE, O2, and Vodafone SIMs. You need a separate pool for each carrier network. If you know how much data you are using each month, you can order a Fixed Pool and select your monthly data allowance from 25GB to 10TB. There is no limit to the number of SIMs you can assign to your Fixed Pool and the size of the pool remains fixed for the whole month. Allowance SIMs and Sharer SIMs (no allowance) can be used in Fixed Pools.
Private APN
A Private APN enables you to have a private Mobile Data network. This solution is perfect for those customers that require enhanced security, as their traffic bypasses the public mobile internet that the public uses. It is also designed for customers that need remote access to mobile devices and want to avoid using static IP SIMs. You can choose to keep all your connections on the internal network, or allow a break out onto the wider internet. Private APNs have no set-up charge and low monthly fees. It is quick to set up, and can be used with individual or pooled data on the EE network with SIMs located across the globe.
Aggregated Pools
Aggregated Pools are available for EE, Multi-network and Vodafone SIMs. You need a separate pool for each carrier network. If you don't know how much data you are using each month you can set up an Aggregate Pool and assign SIMs to it. Your Aggregate Pool size changes every time you add/remove a data SIM, e.g. if you assigned ten 20GB SIMs, your Aggregate Pool size is 200GB, so as you add more SIMs, your data pool grows. However, you cannot use bolt-ons in Aggregated Pools.